Who we are
The Law Firm JKP is a dynamically developing Law Firm offering legal services especially in the branch of commercial, civil, administrative and criminal law. We can be a real support in legal branch for our clients due to the professional attitude and experience gained since establishment of the office in 2009. Business entities operating predominantly in the sphere of building industry, mechanical engineering, production, IT, public administration and self-government, health services and real estates but also individuals belong to our clients. We provide a complex legal consultancy due to constantly cooperating public notaries, bailiffs, experts, tax advisors and auditors. We provide legal services in Czech, English, German, French, Polish and Greek languages.
JKP Legal Team
The size of the office and more branch offices enable us to provide a wide spectrum of legal services – especially due to different specialization of individual team members. Substitutability and experience sharing at cases or projects combining various legal branches is an undisputable advantage.
Lecturing and educational activity
The Law Firm JKP provides also a lecturing activity by the means of its lawyers, especially in a branch of a new private law, namely both for private and public entities as well as in the branch of university education.
Publications & media
We regularly publish especially at epravo.cz and we provide professional statements in radio and television. We focus first of all on new legislation and on its practical impacts. We regularly inform the clients about important legal news by newsletter "Právní novinky JKP/JKP legal news". We are the first who offer own application to cell phone.
Individual attorneys-at-law may offer long-term experience with specific types of contracts. We will recommend the best solution to you.
Clients are coming back to us and absolute majority of new clients are coming based on good references. This is an indicator and at the same time a control of the quality of our services for us. We do our best as of the attitude to our clients.
The long term cooperation with the best bailiffs enables us to collect claims of our clients as soon as possible. At the same time we regularly inform our clients about the situation of their claim. We keep our eye on the debtors and business partners of all clients within the scope of insolvency due to our own developed programme.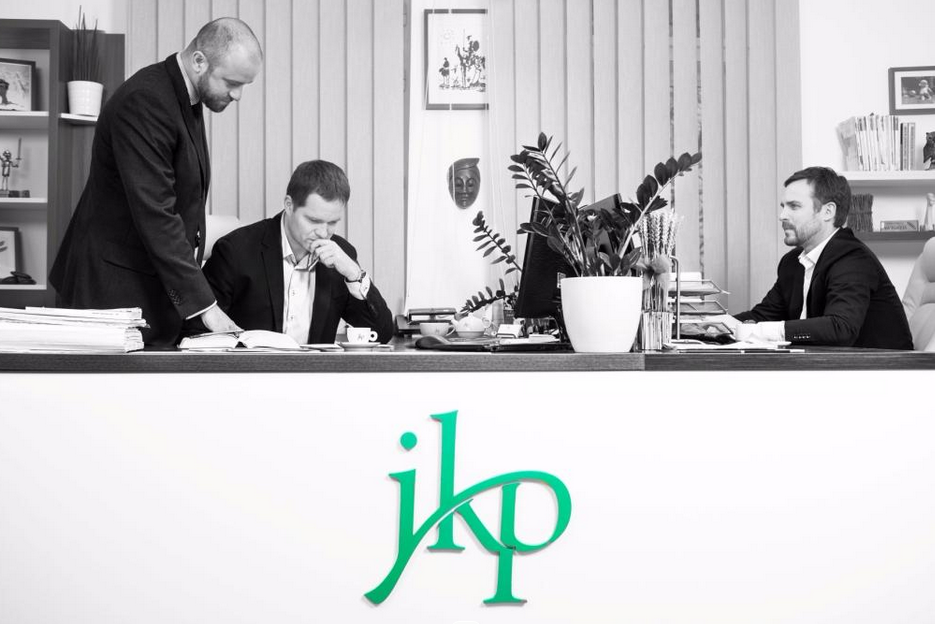 Result is important. We measure it first of all by satisfaction of the client and by its continuing interest in cooperation with this office.
Filip Jakovidis, Jiří Klega, Petr Psotka
Partners
Do you want to be informed about all the news?
Subscribe to our newsletter for entrepreneurs – you will not miss important legislative changes.